The Global Maritime Distress and Safety System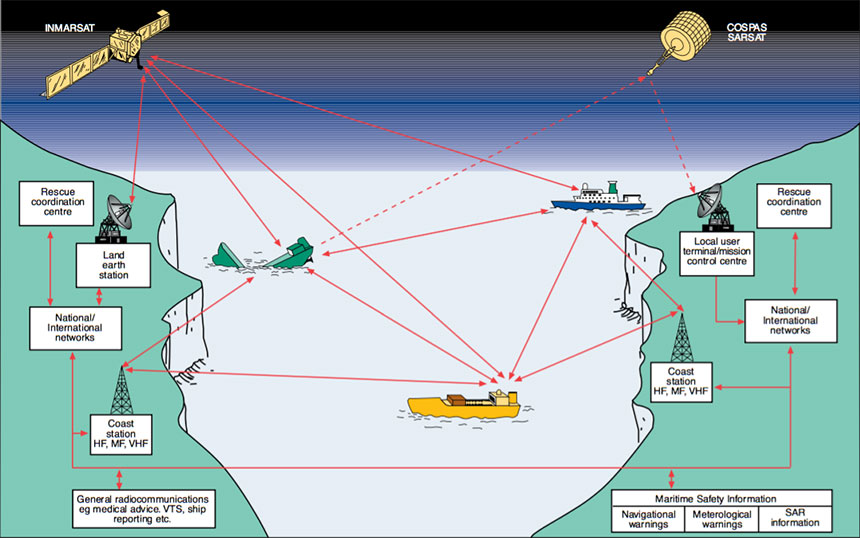 Introduction
In 1979, the International Maritime Organisation (IMO) Assembly conducted an extensive review of the existing maritime distress and safety system. In light of technological advancements, it was determined that a new Global Maritime Distress and Safety System (GMDSS) was necessary to enhance the safety of life at sea. The GMDSS was developed as a comprehensive system that integrates various communication technologies and procedures, including ship-to-ship, ship-to-shore, and search and rescue coordination, with the goal of providing reliable and efficient means of communication in emergency situations. The GMDSS was implemented to improve the safety of ships and mariners at sea and was a significant advancement in maritime safety communication.
The fundamental difference between the previous maritime distress and safety system and the GMDSS is the shift from a ship-centric approach to a shore-based, coordinated system. This shift emphasizes the importance of ship-to-shore alerting, as opposed to ship-to-ship alerting, in order to provide a more efficient and reliable means of communication in emergency situations. It's way faster, easier to use and most importantly, more reliable than the old manual Morse Code and radiotelephone system.
An update to the GMDSS was implemented in 1992 in which Satellites and Digital Selective Calling were incorporated to enable distress alerts to automatically be received over much greater distances. The system is specifically designed to automate the radio distress alerting function of ships, thus eliminating the need for manual watchkeeping on distress channels. The basic concept being to rapidly and automatically alert search and rescue authorities ashore, as well as ships in the immediate vicinity of a ship in distress, in order to facilitate a coordinated search and rescue operation with minimal delay.
In addition to distress alerting, the GMDSS also provides for urgency and safety communications, as well as the dissemination of maritime safety information (MSI), including navigational and meteorological warnings and forecasts, and other urgent safety information to ships. This system enables every ship, equipped appropriately for GMDSS, to perform the essential communication functions required for its own safety, as well as the safety of other ships operating in the same area, regardless of the geographical location in which the ship operates.
The main components of the GMDSS are:
Shipborne radio equipment, including Medium Frequency (MF), High Frequency (HF), and Very High Frequency (VHF) radios, which are used for ship-to-ship and ship-to-coast communications.
Satellite-based communication systems, such as Inmarsat and Cospas-Sarsat, which allow ships to send and receive distress alerts and other safety information even when they're out of range of traditional radio communications.
Maritime Safety Information (MSI) broadcasts, which provide important safety-related information to ships, such as navigation warnings, which are broadcast by coastal stations and provide information on potential hazards such as approaching storms or submerged obstacles, and meteorological forecasts.
The GMDSS includes nine distinct communications functions that are designed to provide reliable and efficient means of communications in emergency situations. These functions are:
Distress alerting – Ship to shore The Global Maritime Distress and Safety System (GMDSS) as described in SOLAS Chapter IV defines the first functional requirement as: "Every ship, while at sea, shall be capable of transmitting ship-to-shore distess alerts by at least two independent means, each using a different radiocommunication service". three basic means of transmitting a distress alert: EPIRB Digital Selective Calling (DSC) INMARSAT
Distress alerting – Shore to ship "Every ship, while at sea, shall be capable of receiving shore-to-ship distress alerts" This function may be fulfilled by either of two means: direct broadcast to vessels from a shore based Rescue Co-ordination Centre (RCC) using Digital Selective calling using the MF, HF or VHF frequency bands using a broadcast of Maritime Safety Information (MSI) using either the NAVTEX service or the SafetyNET service.
Distress alerting – Ship to ship "Every ship, while at sea, shall be capable of transmitting and receiving ship-to-ship distress alerts". Transmission of ship-to-ship distress alerts can only be accomplished by two methods: by VHF Channel 16 (Distress, Safety and calling Channel) or VHF Channel 13 (Bridge-to-Bridge communications channel) by using Digital Selective Calling on either MF, HF or VHF
Search and Rescue Co-ordinating Communications "Every ship, while at sea, shall be capable of transmitting and receiving Search and Rescue Co-ordinating Communications". The purpose of this requirement is to co-ordinate search and rescue (SAR) communications between all vessels and aircraft that may be involved in the incident. Voice communications would normally be used, although initially promulgation of information through the broadcast of Maritime Safety Information (MSI) may be used by a Rescue Co-ordination Centre (RCC) to ascertain which vessels are in the area of the incident and are in a position to assist. Thus any of the following methods of communication could be used:
* Transmission/reception of Maritime Safety Information, NAVTEX or SafetyNET
* Voice communications using MF/HF or VHF or Inmarsat
On-Scene Communication "Every ship, while at sea, shall be capable of transmitting and receiving On-Scene Communications". The purpose of this requirement is to co-ordinate search and rescue (SAR) and other communications between all vessels and aircraft that may be involved at the scene of the incident. Voice communications using MF/HF or VHF would normally be used.
Locating "Every ship, while at sea, shall be capable of transmitting and as required by regulation V/12(g) and (h), receiving signals for locating".
* RADAR (9GHz)– for receiving
* SART(Search and Rescue Radar Transponder) – for transmitting
Transmission/Reception of Maritime Safety Information "Every ship, while at sea, shall be capable of transmitting and receiving maritime safety information".
* NAVTEX – reception by terrestrial communication
* SafetyNET – transmission/reception by satellite communication
General Radiocommunications "Every ship, while at sea, shall be capable of transmitting and receiving general radiocommunications to and from shore-based radio systems or networks subject to regulation 15(8)" General communications may be carried out utilizing the following systems:
* Digital Selective Calling to set up a telephone or telex link on MF/HF or VHF
* The Inmarsat network
Bridge-to-Bridge Communications "Every ship, while at sea, shall be capable of transmitting and receiving bridge-to-bridge communications" Ships would normally use VHF communications to carry out this function. The normal use of this function would be for port operations and pilotage. Occasionally, for longer range MF/HF or Inmarsat could be used. The setting up of communications usingMF/HF would be via Digital Selective Calling.
*courtesy jojoeland.weebly.com/mersar.html